Want a Great Price on Flat Roofing?

WHAT ARE THE DIFFERENT TYPES?
There are four main types found on residential homes:
Kinard Thermo Insulated Roof System
Fiberglass built-up roof
Tar and gravel built-up roof
1- ply, known as rolled roofing
So What is the Difference?
Fiberglass Built-up & Tar and Gravel
The roof covering is a layered combination of hot asphalt and roof membrane, covered with small gravel creating a finished product.
Difference between the two is that one has gravel and the other does not.
Pros:
If installed correctly and maintained, it could last well over 15 years.
Cons:
The built up roof must be coated and maintained every two to four years

No manufacturer's warranty

Difficult to repair

Not many contractors left to maintain or install

Becoming outdated due to the use of hot asphalt
 
Kinard Construction and Roofing recognizes that having your roof repaired or replaced is never convenient; it pales in comparison to the inconvenience  and cost of ignoring the impact of what your roof has endured over the years. The older a roof gets, the more sensitive it becomes to the factors of direct sunlight and rain. Many people are surprised to learn the extent of their roof damage especially when their roof appears to look fine.
Don't Let Your Flat Roof Get Like This!

Not maintaining your roof at least twice a year could result in cracks, leaks and damage to the roof topping itself, requiring repair or replacement.
  Thermo Insulated Roof System
APPLIED BY USING: MECHANICAL FASTING AND HEAT WELDING
Used for commercial applications, it is now being seen more on residential homes.
Pros:
Has a manufacturer's warranty of 15 years

Easy to repair

Replace at 1/4 of the price of original installation by just replacing the top sheet

Cool roof system; installed over double-sided foil insulation board

Energy Star Rated

The reflective properties of this product will not exceed a maximum surface temperature of 85 degrees.

Can be installed on just about everything including Florida Rooms and Mobile and Park Homes.
Cons:
Main application color: White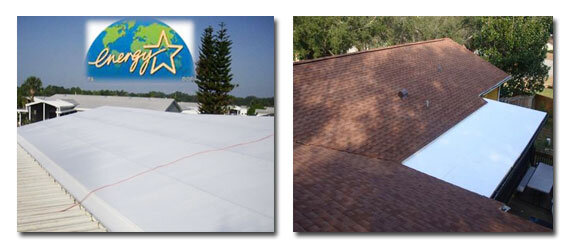 To Learn More about a Thermo Insulated Roof System for your Mobile Home 
1-Ply / Rolled Roofing / Modified Bitumen
APPLIED BY USING: HOT ASPHALT, TORCH, COLD PROCESS, OR PEAL AND STICK
Called by all three names, it is the same. Most use the granulated sheet like those below. The material comes in many different colors and warranties.
Pros:
Has a manufacturer's warranty
Warrantied between 10 and 12 years
Many colors to choose from to match shingles.
Cons:
Will not last as long as shingles
Becoming outdated and less used every year